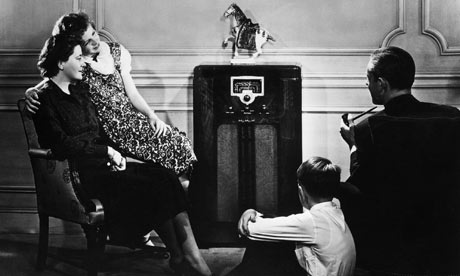 (image: On Classical Blog. The Guardian. March 3, 2009. http://www.guardian.co.uk/music/tomserviceblog/2009/mar/02/classical-music-great-orchestral-debate)
Today's Age has a story about Barry Palmer (Hunters and Collectors guitarist, oh, that's my middle age talking, isn't it?) and a new app come service that lets you view live concert footage. The app and service is soundhalo. This is cool. However, the point? On TV and radio what carries the most value (in terms of audience interest and $) are events that are live, where the liveness matters. This excludes drama, game shows, and the like. It does include the new forms such as 'reality' game shows as they are designed and intended to be live. Sport is the biggest of them all (one billion Australian dollars to broadcast AFL), but music is the next biggest.
Sport matters because seeing it live is part of sport. You don't want to watch it a day, a week, later. Not only because you will now the result but because sport's pleasure is in its performing in the now. Um, that'd be the same for a concert, wouldn't it? Rupert Murdoch understood this many many years ago when he paid a then unprecedented sum for the rights to the English Premier League (people thought he was mad), then stuck it all on SkyBSB. This is what made Sky viable. People will pay for live sport. And people will probably pay, or at least enjoy, seeing live music (can't get to Glastonbury, then live is next best). So this app and service could be a winner simply because it can leverage what matters, which is the liveness.
For us, outside of the specifics of networked media, this is another nail in the coffin for heritage media. Not only does soundhalo offer an alternative revenue model for bands, but it reinforces the fact that the traditional power of TV was its control of time. If you wanted to watch your favourite show you had to be in front of a TV set at the time it was on. This meant they could charge lots of money for advertising since you had to be there to be part of it (in front of the TV). When was the last time you made sure you were at home, in front of the TV, to not miss something? That wasn't a live event? I never do this for drama. Ever. The opposite of this was once normal. Just like we think those images of the family gathered around the radio to listen to something are, well, sepia quaint, this was my childhood, adolescence and early adult life for television. Not any more. If you can't guarantee audience, you lose the basis of your revenue model (advertising). Things are changing, have to change, and will change. You will be at the vanguard of this.