Bogost's second chapter was illuminating and it's helped me understand just a little more about what we're trying to achieve with this studio. That's always difficult to apply at the time, but at least I can go back and reassess. On that note:
Aw, it's not that bad. I just wanted an excuse to ping Clueless, which is going to be my fun film of the week.
What I realise, though, listening back to my work, it that it's so so so narrative-heavy. It would've been so easy to strip it down, if I'd known at the time. There are some good little elements to it, and my thinking is there at least, but Ellie of a fortnight ago really needed to put that into a story.
But that's okay. It's alright to not have a handle on complex and confusing theory by the second week. I've learnt from it, and that's propelling me forward. The work I did in the group is already so far removed from PB1, and it's been two-odd weeks. That's something to be proud of.
This whole degree's been great on a whole to teach me that it really, really is the only way to learn well. Fucking up gets me to a better place, and it's very liberating. That freedom is diminished by the 70%-average qualifier for entry into my master's hanging over my head, but whatever.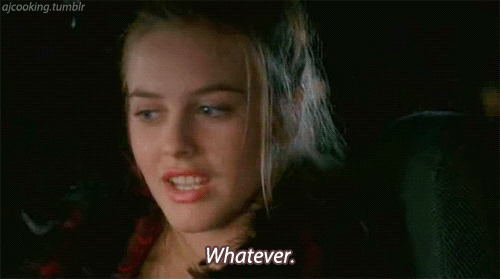 (Not whatever. I'm terrified. Let's not talk about it.)